Coasting for Women- Stand Up Paddleboard Tour & Lesson, Port Fairy (Great Ocean Road) 14yrs+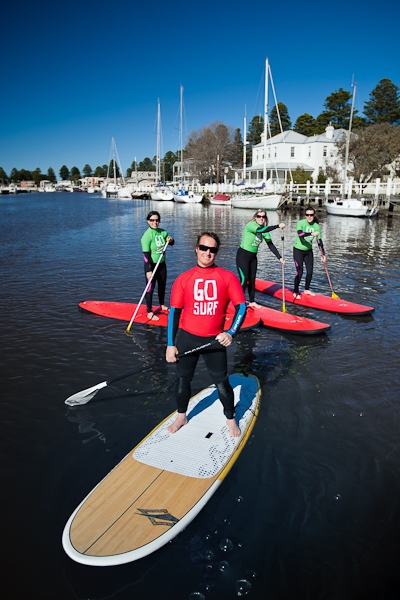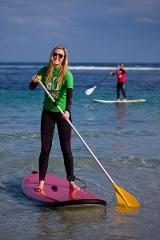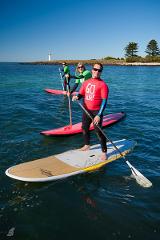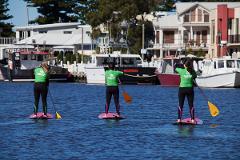 Duration: 1 Hours (approx.)
Location: Port Fairy, VIC
Product code: Coasting
Coasting is a Stand Up Paddleboarding (SUP) program for women to help them start their journey to a healthier more active life. Coasting is an initiative of VicHealth which falls under the "Changing the Game" initiative. It offers the chance to experience Stand Up Paddleboarding and helps provide an avenue for continued participation in SUP. Coasting offers participants a chance to embark on "your journey," to get out on the water and try a new emerging activity that is SUP. The program includes an introduction to equipment, how to use the paddle, how to correctly stand on the board and paddle, turns, water safety and much more!

Paddle Boarding is the new surfing phenomenon adding a whole new dimension to riding waves and exploring our great coastline. With a fun, low impact, 'all-body' workout, Paddle Boarding has plenty of people (including our top surfers) learning a whole new way to play in the ocean.
GO Surf is an accredited Surfing Australia Stand Up Paddleboard School. Best of all we operate on one of the prettiest (and safest) rivers and beaches anywhere in Australia.

(This lesson requires moderate fitness and is not recommended for adults with hip, knee or ankle medical conditions.)
Location

Meet on Port Fairy's Moyne River near the boat ramp on Griffith St. It is near the corner of Ritchie St and just past Charles Mills Reserve. (Look for the white brick shed with the sea scouts sign.) There are no bathrooms at this location.
We will get you fitted with the right equipment and go through the techniques and safety aspects of SUP on the riverbank. We we then enter the calm protected river and get comfortable standing and paddling the board before heading off down the river.
What is provided
Our equipment is the best available on the market and produced specifically for Surf Schools. We use soft, stable boards that are easy to balance, paddle, stand and surf on for beginners. Warm full length wetsuits are available if you want to wear one but you will be exercising above the water so most of the time over summer you won't need one. We will provide you with a coloured rash vest so we can easily identify participants in the water. We also have life vests available. There are no bathrooms at this location.
What to bring
Paddleboarders need to wear a swimsuit or boardies and sunscreen, bring a towel, and leave your best sunnies at home, they sink! Don't forget a camera to document the fun you will have.
Cancel Policy
Lessons are subject to 4 or more participants. Stand Up Paddleboarding is no fun for beginners on a windy day. If it is windy the lesson may be confined to the river. If the wind is forecast over 25km we then we will reschedule your lesson. If we change the time and you are unable to come to the new lesson, then we will provide a credit towards another lesson at a later date. If that is unsatisfactory we can issue a refund at our discretion. You will be contacted ASAP if, for some reason, the lesson is postponed or cancelled.
If you would like to reschedule a lesson you have booked, we need at least 48 HOURS NOTICE. Failure to give the necessary notice will mean you forfeit the cost of that lesson. Under these circumstances there are no refunds, partial or otherwise.